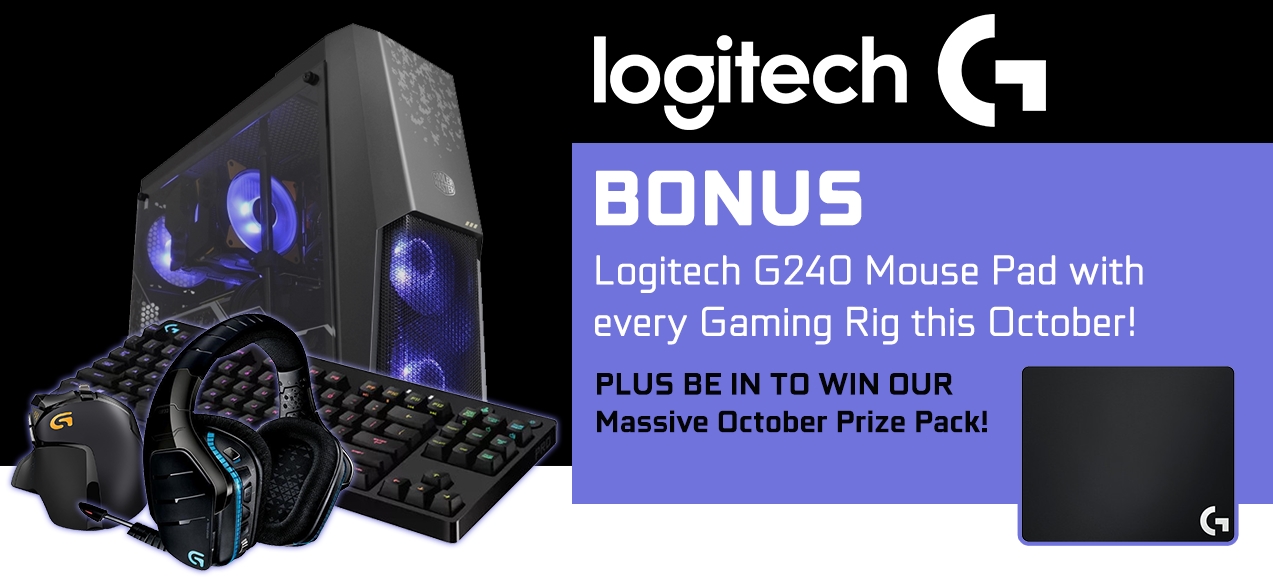 Purchase yourself a Good Gaming PC this October and you can register to redeem a G240 Gaming Mouse Pad to go with your new GGPC!
The G240 provides edge-to-edge performance on a clean surface with just the right amount of friction for low-DPI manoeuvres. Crafted for maximum control of your mouse movements, your gaming will benefit from the consistent surface texture, also giving your mouse sensors better imagery for translating mouse movement into cursor movement.
A great mousepad for any mouse, but this will also put you into the draw for our MASSIVE October Gaming Prize Pack which will be going out to one lucky gamer!
IMPORTANT: To be in to win the MEGA Prize you must register for the Logitech G240 Bonus!
And our October Grand Prize Pack is pretty epic indeed, a full setup comprised of our most recommended Logitech G Gaming Gears!
Included in this months GGG Prize Pack is the outstanding Logitech G502 Proteus Spectrum RGB Gaming Mouse which is one of the top-rated Gaming Mice in the WORLD!
The Logitech G502 Proteus Spectrum Gaming Mouse with full RGB LED Lighting and tunable weight options included. Get maximum tracking accuracy from the responsive PMW3366 optical sensor which works with exclusive Logitech G Delta Zero optical sensor technology to minimize mouse acceleration and increase reliable targeting. Adjustable RGB lighting lets you select from up to 16.8 million colours and as our lucky winner is going to have a complete setup, Logitech Gaming Software will allow them to customise everything, and you can then set this theme over the whole kit – synchronizing lighting patterns and effects to bring the gaming setup to life with breathing or light cycling! When it comes time to play you can have your setup adjust to pre-loaded colour configurations automatically, each perfect setup highlighting the keys for the specific game you're playing!
Next up we have the first Logitech G keyboard to carry the name Pro 🙂 Designed and built to the exacting standards of some of the world's top esports athletes, our lucky winner is in for a treat with the Logitech G TKL Pro Gaming Keyboard on their desk! Engineered for extreme performance and designed to win, the short-throw Romer-G switches actuate at just 1.5mm, making them around 25% faster than the competition's standard mechanical switches.
Providing a perfect blend of speed, precision and quiet performance, this Logitech G Pro Gaming Keyboard is the stealth assassin of mechanical gaming keyboards.
To complete this epic setup we've got a really excellent Gaming Headset too! The Logitech G933 Gaming Headset features advanced Pro-G audio drivers are made with hybrid mesh materials that provide the high-quality audio performance gaming demands. These Pro-G drivers deliver both clean and accurate highs as well as a deep rich bass that you would expect from premium headphones so you can experience incredible 7.1 surround sound with Dolby or DTS Headphone:X Surround Sound.  These audio technologies help to create a more lifelike in-game special awareness, allowing you to clearly hear enemies sneaking around.
Sporting a really good noise-cancelling boom mic, your communication in-game will be crispy clear and when you're not using it the mic can be folded back into the headphones and is nearly invisible. G933 is travel-ready with an included mobile cable and secondary inline mic for mobile devices when you don't want a microphone boom in your face.
Play either on the 2.4GHz wireless or use the 3.5mm analogue input on the headset to play wired without using battery power. Both the light strip and logo can each be programmed to different colours or effects or can be synchronised.
Amazing gear, amazing October fun ahead – check out the latest range of Good Gaming PC builds today!