Good Graphics Cards – Best of Computex 2016
This year the Computex Expo in Taipei timed itself well with the releases and announcements for new graphics cards from both Nvidia and AMD. We've all seen the founders edition GTX 1080 and thankfully the show was packed with excellent looking cooler designs from the masters at Gigabyte and Asus.  Unfortunately on the AMD side of things we had to sign NDA (no disclosure agreements) so we'll show you more on the AMD RX 480 around its release on the 29th of June but lucky for us on the Nvidia side of the things we can show you all the goodness that's coming to New Zealand soon!
From the Gigabyte team the new graphics cards are looking very impressive indeed with three unique designs to found on display and also powering some excellent gaming systems, choosing which card to get is going to be tough as they all look and perform so well!
The Gigabyte G1 Gaming GTX 1080
The Gigabyte Xtreme Gaming GTX 1080 – that middle fan design is fantastic!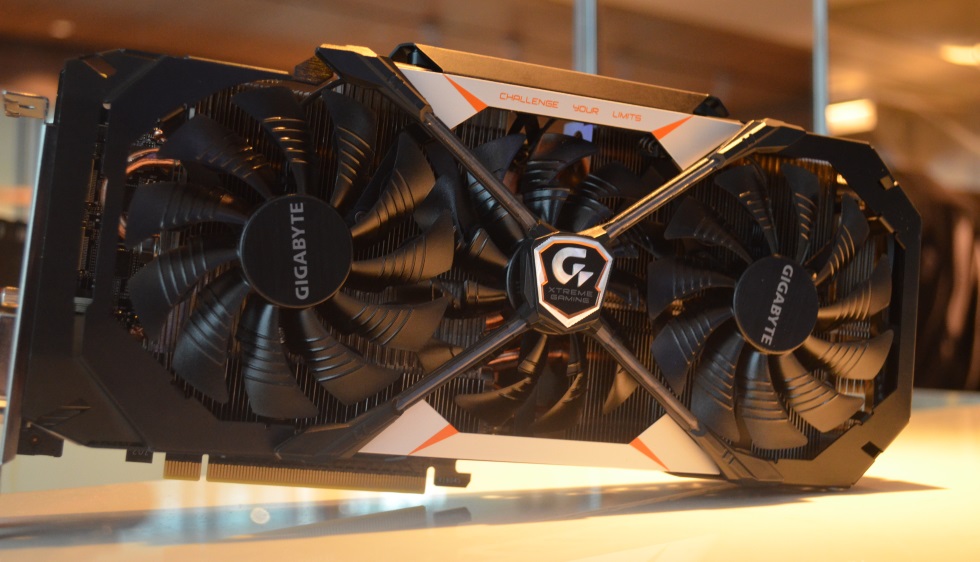 We could only find one card from Asus, a very nice looking STRIX version that we can't wait to get our hands on 🙂
The Asus Strix GTX 1080
Laptops are about to enjoy a massive boost in gaming power as well with external graphics card enclosures on display from Gigabyte and Asus with a third design also coming from design cooperation between Silverstone and Gigabyte. These new accessories work via the Thunderbolt 3 connection and you'll be able to change or upgrade the graphics card inside which is pretty damn outstanding news for the longevity of our laptops with of this new technology, being able to get a reasonably spec'd laptop with decent battery life to use when you're out and about that can be transformed into a gaming beast when you return home is pretty wonderful news.
The Asus ROG design is very aggressive, certainly vibrant and quite large. At the front of the casing a plasma tube glows as red lightning crackles inside, the intricate Republic of Gamers design is quite impressive to behold. It should be noted we could hear a high pitched noise from the unit however (possibly the plasma tube) and hopefully this is fixed before the final version releases.
The Gigabyte & Silverstone combined design stands vertically and you can see that Silverstone had a large hand in the aesthetics which ooze style. Venting upwards this one is likely going to perform very well and with the small footprint it could be the best of the bunch if you're short on space.  The Gigabyte version is more industrial, clean and also the smallest of the bunch (by quite a bit!) but still able to fit long graphics cards inside. When talking to Gigabyte about the unit we learned it was also able to be daisy chained which had us thinking about crazy SLi like setups – we don't quite know how this would work for SLi but if it does the potential for running multiple external graphics cards for ridiculously powerful setups is very appealing.
Laptop graphics solutions like these have the potential to change the way laptops are viewed by PC gamers. Currently, the most powerful of our gaming laptops struggle to power the internal dedicated graphics cards while running on battery and work best when plugged into mains power anyway so with solutions like these (although not really portable) we can turn our laptops into potent gaming systems and have the option of upgrading the graphics when needed instead of looking to replace our laptop.
We'll be following this new technology very closely as it develops.  Be sure to keep your eyes on our computers blog for the latest news, check out our GGPC Instagram for more pictures of Custom Gaming PC, Gaming Gear and the exciting new Components.