How to Clean Install Windows 10 from USB
For this guide we're going to be erasing our hard drives, and clean installing our operating system from the Windows 10 Retail Edition USB Kit.
All GGPC systems include a recovery USB, even if the windows is OEM, but if this is missing you can download Windows 10 for free from https://support.microsoft.com/en-us/help/15088/windows-10-create-installation-media (you'll still need your key to activate the licence of course, so we've popped guide at the bottom of this page)
Step #1 – Insert the USB Drive into a port on your PC
Step #2 – Turn the PC on and immediately start tapping DEL to enter the BIOS
Step #3 –  in the 'Boot Menu' (for high end BIOS you might have to click advanced options first) select the 'USB' drive as option Boot Option #1. Press F10 to save and exit BIOS.
Step #4 – Reboot
Step #5 – You'll PC will now boot into the screen shown below, select the 64-Bit option
Step #6 – For New Zealand, change the keyboard option as shown to 'United States-International' and leave the language + time and currency as English (United Kingdom)
Step #7 – Click the big 'install now' button that has appeared 🙂
Step #8 – Select 'I don't have a product key'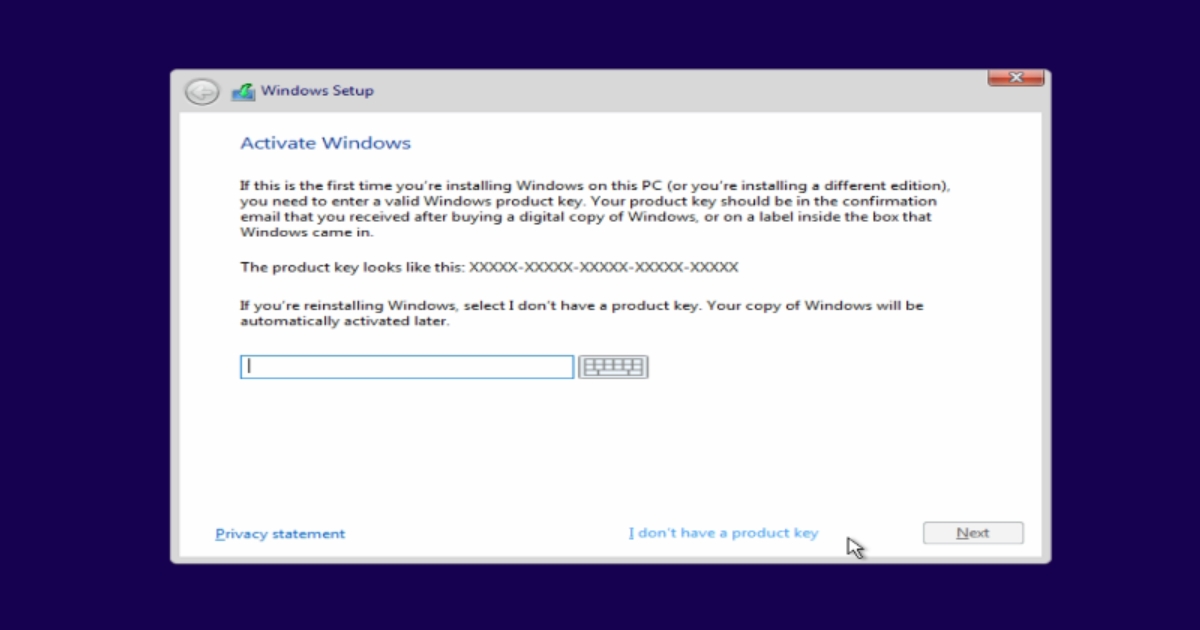 Step #9 – Select 'Windows 10 Home
Step #10 – Once you accept the terms you'll reach this screen, select 'Custom: Install Windows Only'
Step #11 – Click delete on all existing partitions, a warning will pop up for each one reminding you that once it's gone, it's gone.
Step #12 – Now you should only be left with a single option, per drive, that's says 'Unallocated space' – click the one you want to install on to highlight it, then click next.
Step #13 – You've done it, now you're installing Windows on a nice clean drive as though it was a brand new PC.
From this point it's going to be pretty straight forward, it will progress through the menu then ask to reboot.
IMPORTANT! 
Remember step #1? When the PC reboots it's going to boot from the USB if that's still plugged in, so if you find yourself on step #2 or even #3 simple turn off the PC, remove the USB and turn it back on!
Now that you're back up and running, you'll need to enter the Windows 10 Key again.
Find Windows 10 Key here, it's usually here, on the top front corner of the non-windowed panel of your PC.
Or, if it's a custom creation you designed but we've built for you, it could be here, in the accessories box.
Open this up and inside the blue/white box you'll find a little card with a picture of a key.
To enter it into a system that's asking for this detail, follow the steps below
Press "START" and type "activate"
If the screen looks like above, click 'change product key' and enter your details from the licence sticker/keycard.
And you're all done! Windows is activated and ready to customise.