UPDATE: This promotion has now ended, see the latest AMD Rewards here!
UPDATE: This offer has been extended until May 30th!
AMD have a new RAISE THE GAME bonus offer for gamers in New Zealand!
For a limited time (and while code stocks last) you can register to redeem a BONUS AMD Rewards Key with select AMD Radeon RX 5500 XT, RX 5600 XT, RX 5700 and RX 5700 XT Graphics Cards or Gaming PC featuring this hardware!
This promotion is valid only on qualifying AMD purchases from February 4th 2020 – April 25th 2020, and only from authorised retailers (PB Tech in NZ)
Eligible models for Radeon RX AMD Rewards Raise the Game:
AMD RX 5500 XT
AMD RX 5600 XT
AMD RX 5700
AMD RX 5700 XT
This new AMD Rewards Key offer unlocks an awesome game!
Resident Evil 3: Prepare yourself for a horrific survival experience, the game is a remake of Resident Evil 3: Nemesis (from wayyy back in 1999), and follows Jill Valentine as she attempts to escape a zombie apocalypse while hunted by an intelligent bioweapon known as Nemesis. Based on the success of the awesome Resi2 remake we enjoyed in 2019 this one is going to be awesome!
PLEASE NOTE: Resident Evil 3 is set to release on 03/04/2020
In addition to coming with Resident Evil 3, if you get the AMD RX 5600 XT, AMD RX 5700 or AMD RX 5700 XT you'll also score another code for MHW: Iceborne!
Monster Hunter World Iceborne: The title calls out the latest expansion but worry not if you don't own the original, this AMD game bonus redeems the Monster Hunter World + Iceborne expansion so you're in for both!
And even more awesomeness awaits with the excellent AMD Rewards Xbox Game Pass subscription offer (limited time) on too!, which gives access to a curated library of over 100 high-quality PC games on Windows 10, available to download and play. Xbox will continue to add more diverse titles to the library, including new games from Xbox Game Studios and well-known PC game developers and publishers on the day the games are released.
As with previous AMD Rewards Key promotions, you'll have to claim your key first and then activate it via the portal – this activation must be done with the AMD hardware fitted inside your system!
Step #1: Purchase an eligible AMD component or Gaming PC featuring this hardware from a participating retailer.
Step #2: Register your purchase to redeem your AMD REWARDS KEY from the retailer. (PB Tech in New Zealand)
Step #3: Login (or create) to your AMD Rewards profile at www.amdrewards.com/login
Step #4: Enter your AMD REWARDS KEY on the page that follows the login (shown below) – IMPORTANT! You'll need to redeem from the PC that has the AMD hardware fitted inside, you cannot redeem from your mobile device.
Step #5: A prompt will appear for verification, click OK to proceed and follow the prompts.
Step #6: Success! Proceed to the next step – we're almost there!
Step #7: You'll now see the 'My Rewards' screen, any game options will be available to your here.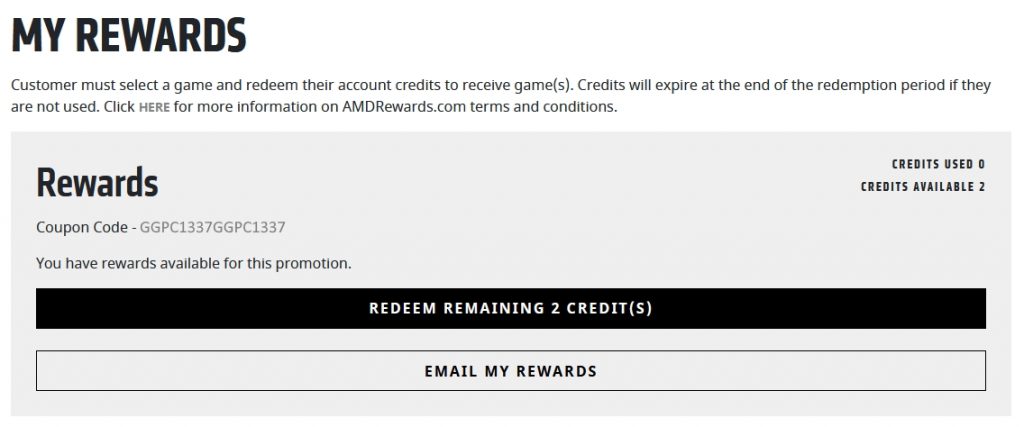 Step #8: Game Pass example: Select the "Game Pass for PC" code that appeared, then click the activation link. IMPORTANT! Only click if you want to start the 3-month subscription, you can wait till near the end of the promotion if you want to (but don't leave it too long, codes do expire!)
Step 9: Once you click the 'activate' link you'll be taken to www.microsoft.com/redeem – login or create a new account to proceed.
Step #10: Redeem your AMD Rewards Game Pass in the new box that has appeared – you've done it!
If you get stuck at any stage of the activation process you can send a message to the AMD team directly via the eTicket Contact Form which is linked at the bottom of the AMD Rewards Support Page www.amdrewards.com/faq.
It's pretty great just how good the AMD team are at responding to messages, our last ticket test was sent on 25/02/2020 and was responded to within 12 hours – well done AMD!
GAME ON!