UPDATE: This promotion has now ended, the codes expire November 7th so please activate ASAP!
Woohooo! AMD have just kicked off an awesome new free game bonus offer for those getting themselves selected Ryzen CPU, or Gaming PC featuring these powerful processors!
For a limited time (and while code stocks last) you can register to redeem a BONUS AMD Rewards Key with select AMD Ryzen
This promotion is valid only on qualifying AMD purchases from July 7th 2020 – October 3rd 2020, and only from authorised retailers (PB Tech in NZ)
Eligible models for Ryzen Equipped to WIN AMD Rewards promotion linked below!
AMD Ryzen 7 3700X
AMD Ryzen 7 3800X
AMD Ryzen 7 3800XT
AMD Ryzen 9 3900X
AMD Ryzen 9 3900XT
AMD Ryzen 9 3950X
This new AMD Rewards Key offer unlocks an awesome game!
PLEASE NOTE: Assassins Creed Valhalla release date TBC December 2020
Assassins Creed Valhalla: Become Eivor, a mighty Viking raider and lead your clan from the harsh shores of Norway to a new home amid the lush farmlands of ninth-century England. Explore a beautiful, mysterious open world where you'll face brutal enemies, raid fortresses, build your clan's new settlement, and forge alliances to win glory and earn a place in Valhalla. England in the age of the Vikings is a fractured nation of petty lords and warring kingdoms. Beneath the chaos lies a rich and untamed land waiting for a new conqueror. Will it be you?
As with previous AMD Rewards Key promotions, you'll have to claim your key first and then activate it via the portal – this activation must be done with the AMD hardware fitted inside your system!
Step #1: Purchase an eligible AMD component or Gaming PC featuring this hardware from a participating retailer.
Step #2: Register your purchase to redeem your AMD REWARDS KEY from the retailer. (PB Tech)
Step #3: Login (or create) to your AMD Rewards profile at www.amdrewards.com/login
Step #4: Enter your AMD REWARDS KEY on the page that follows the login (shown below) – IMPORTANT! You'll need to redeem from the PC that has the AMD hardware fitted inside, you cannot redeem from your mobile device.
Step #5: A prompt will appear for verification, click OK to proceed and follow the prompts.
Step #6: Success! Proceed to the next step – we're almost there!
Step #7: You'll now see the 'My Rewards' screen, any game options will be available to your here.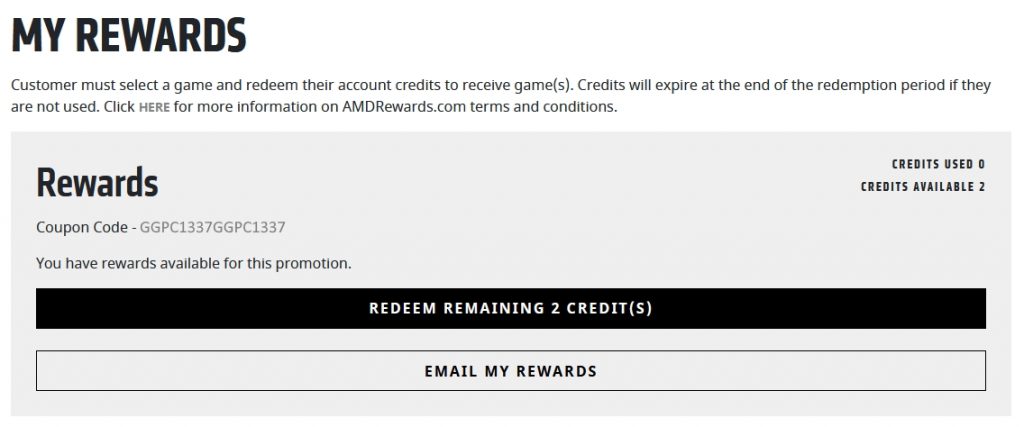 Step #8: IMPORTANT! Only click if you want to activate the token , you can wait till near the end of the promotion if you want to (but don't leave it too long, codes do expire!)
Step 9: Once you click the 'activate' link you'll be taken to launcher or landing page (For Assassins Creed Vahalla this will likely be uPlay or Epic Games launchers.), login or create a new account to proceed.
Step #10: Redeem your AMD Rewards Game Pass in the new box that has appeared – you've done it!
If you get stuck at any stage of the activation process you can send a message to the AMD team directly via the eTicket Contact Form which is linked at the bottom of the AMD Rewards Support Page www.amdrewards.com/faq.
It's pretty great just how good the AMD team are at responding to messages, our last ticket test was sent on 25/02/2020 and was responded to within 12 hours – well done AMD!
GAME ON!